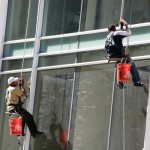 I don't think very many people set out to be window cleaners. Don't get me wrong; it's a great career, just not one pushed by many high school guidance counselors. Last week, Mike told everyone how he actually fell into the window cleaning trade when he started helping out his Uncle Mitch at just 13. And, it got me thinking about how I ending up owning a window cleaning company. 
I was studying both art history and non-profit management at Wayne State University in Detroit when my then boyfriend, now husband, took a job with Alex at A-1 Window Cleaning in Farmington Hills (the business has since changed hands many times). The manager was a guy named Ivory. Alex actually didn't want to hire my husband; he was just some kid that knew nothing about window cleaning. Ivory talked Alex into it, right then and there. (Side Note: Ivory, if you're out there, thanks!)
My husband liked window cleaning so much that, when he was laid off that very fall, he started hustling for route work on his own, met Tom over at Eastern Great Lakes and spent the next 18 years of his life becoming one of the best. And, my plan to run a museum was put on the back burner. Ok. Who am I kidding? No one gets a JOB when they have a B.F.A. in Art History! Although those non-profit classes came in handy during the winter months – LOL.
So, what's your story? How did you become a window cleaner? Did you fall into the business like all of us or did you plan for it? Share below in the comments – we'd love to hear all about it!