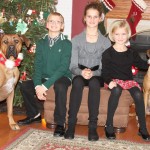 During this Christmas holiday season, I truly wish you and your loved ones the best life can offer you.  In a lot of ways, we live in a grand time for being able to commute, communicate and connect with people that we care about.  Enjoy and partake in this season that hopefully brings out the best in each of us.
It is a cherished time to reflect on the years that have past, to enjoy the day we are in, and to look expectantly towards tomorrow. It is a time to digest what a true gift is.
I trust that you enjoy this Holiday Season!  From the entire Waroway family to you, Merry Christmas and Happy New Year.
Mike