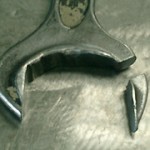 The week between Christmas and New Year's is always short and usually slow in the window cleaning business. Sure, there is always route work to be done. Perpetually. Most residential customers, however, would rather wait until after the holidays while the commercial ones would rather put it on the bill for 1st quarter.
This actually is a great time to clean up, sort through, organize, replace and repair all those window cleaning supplies clogging up your toolbox, truck bed, van, shed, garage & anywhere else you keep your window cleaning equipment. Maybe you do this on a nightly or weekly basis. Maybe not. Take advantage of the downtime now and get prepped for 2012.  Gather everything in one spot, group like items together and get going. It won't take long.
Throw out those holey towels and chamois. You know the ones. We all have them. They have served you well, but they need to go.
Check all your squeegees for bent blades. Toss. They have to go, too. Don't try cleaning a window like that.
Examine all your handles (squeegee, wetter, scraper) and replace those that are cracked beyond repair. Don't just toss them, though. Take them apart and save what you can for spare parts. You never know when you'll need it.
Speaking of spare parts, sort through yours and restock those that are running low.
Make sure that the feet of you base ladder sections are in good repair and that the locking mechanisms all work properly. You can purchase replacement parts easily.  Remember, it's better to be safe, than cheap.
Chances are at least one of your window cleaning buckets needs a new handle. They get used and abused.
Check all the twist locks on your extension poles.
If you have any type of water fed system, check both the quick locks and twist locks. Look for leaks in both the system as well as the hoses.
Repair what you can. Re-stock your supply of disposable items like rubbers, razor blades etc.
Check any wetter sleeves for holes. Sometimes these can be repaired (sewn) and sometimes you just need to buy new ones.
Purchase any items that you always seem to be missing or needing on the job: 1st aid kit, bug spray, screwdriver. Take the time now and you'll be happy later.