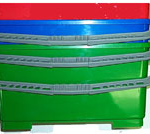 After a few years in the business, you start to know what pieces of window cleaning equipment that you like. But, what if you were starting out as a newbie? What would you need if you were just starting out? There are probably as many different answers to that question out there as people reading this blog. Here's my take:
1. Bucket: No. Not just any old bucket from your garage. Get a good quality professional window cleaning bucket. Some people prefer the round ones, but the rectangular buckets have comfortable handles and add-on wheels for route work. Nice.
2. Squeegee: Same advice here. Get a professional grade window cleaning squeegee and you can't go wrong. It is downright shocking how many articles, blog posts and printed books that I have read that suggest you just grab a squeegee for five bucks from the local hardware store. It is just cringeworthy! I take that back. If you are planning on cleaning car windows as they pull up to a light, then just any old squeegee will do. If you want to clean residential or commercial windows professionally, get a top notch squeegee from Detroit Sponge.
3. Rubbers: There is no sense in buying a high quality squeegee and then never replacing the rubber (the squeegee blade). You may as well get a roll of paper towel. What many window cleaners do not realize is that a squeegee rubber needs to be replaced daily. Dirt and debris on the windows create tiny nicks on the blade and they need to be replaced. Believe it or not, streaks are caused but that barely there nick and can ruin all your hard work.
That's it. The above three items will get you started. Sure, lint-free towels are needed for drying edges and a wetter or natural sea sponge help get the water on the glass. We could really expand this list to 10 or even 25 key window cleaning tools, but without these first three you can't do much of anything.
So, what do you always have in your bucket, holster or pocket? Leave us a comment and let us know.