I am fresh back at the office, returning from a great trip to New Orleans for the annual IWCA convention. Gotta say, the food in New Orleans is great!
The amount of information that can be gained at the International Window Cleaning Association (www.IWCA.org) convention really challenges many window cleaner's normal way of doing business.  The gathering provides an opportunity for window cleaners to rub elbows with other persons in the same field that are winning at this game of business.  Often, discussions regarding topics like how to compensate workers, structuring sales persons, effectively setting up work trucks with equipment, and latest tools and technologies can regularly be overheard. This 2012 gathering had a different feel than past conventions.
In the past, there has always been a trade show component to the show.  This year, in an effort to mix things up, there was an expo area that featured vendors like us, but there was not a full blown trade show with the normal abundance of products displayed.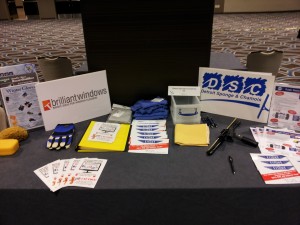 While it was very different to not be able to show off some of the great window cleaning tools that we sell, the conversations still flowed  with window cleaners from across North America.
For this next year, yours truly was offered the opportunity to serve on the IWCA Advisory Board.  This is an honor as I will do my best to help the team of volunteer window cleaners in any way possible with the management of the IWCA for 2012.  Thanks for the opportunity!
For now, I am back at the office, hard at work. I'll post some thoughts soon about a few things that seem like you would be interested in from the show..
BTW, for the show, we offered a coupon code of ETTORESALE for 10% off all Ettore Products until 2/12/12.  Might as well share it with you!
I'll talk to you soon!
Mike