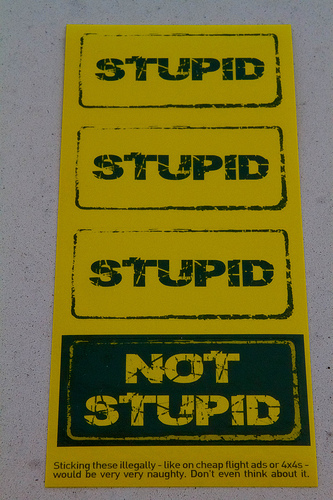 We talked about how scary hiring staff can be last week, how they will never BE you, how you have to let go of a little control in order to take things to the next level. It's stressful, but it eventually becomes a situation that just has to be dealt with. You can't put it off any longer. There is only so much work you can get done as a one-person operation. If you are at that point, here are a few tips on what you DON'T want to hear when interviewing potential window cleaners to join your growing team.
1. "I am very careful with my window cleaning supplies. In fact, I only use one squeegee blade a week. Isn't that great?!"
2. "It gets hot. You let us work with our shirts off, right?!"
3. "This one customer had bushes. I really hated those bushes so I took the liberty of upping the price by $1 extra per window. I told the customer it was on 'Inconvenience Fee'."
4. "We always cleaned screens inside the house. It is easier that way; you should try it sometime."
5. "Oh, I never cleaned with soap before. Is that the way YOU do it?"
6. "I don't like ladders. Is that a problem?"
7. "What do you mean we work when it rains/snows/gets hot/gets cold? I thought this was an easy gig?"
Yes. It's sad, but true. All of the above have been uttered by grown men who fancied themselves window cleaners. Just because they own the right window cleaning equipment did NOT mean they were anywhere near qualified to work on our team. In fact, over the years we learned to specifically hire people who had no experience so we could train them the right way.
The main thing to keep in mind in any hiring situation is that you may think you are just little ole you. You're not. You are the boss now. Act like it. If you get a weird vibe or an uneasy feeling, don't hire them. Move on. If they consistantly do something wrong, fire them. Move on. It's a business.
We once had someone, who did something wrong and knew he was getting fired, show up with his hugely pregnant teenage girlfriend and their 18-month old toddler. How can you fire someone when you know he has no other way to feed those people? We couldn't. Big. Mistake. Less than a week later, he got angry with a customer on the job and took off with all their screens. It took his aunt, his girlfriend and the police to convince him not to trash them. Lesson learned!