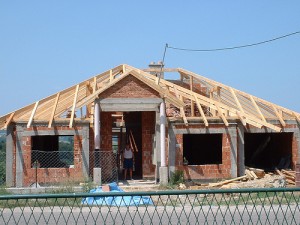 Construction cleaning takes a little extra patience and a lot of extra talent. All the various trades that work on a house or commercial building make quite a mess. Paint, wallpaper goo, drywall compound and cement all wreck havoc on windows. If you have a project like this, we have a few tips for you. 
1. Much of the stuck on adhesive will come off with a little elbow grease and some 0000 steel wool.
2. You can also use a standard scraper to get off the more persistent construction debris. Be sure to change the blade often; a nick can do more harm than good.
3. Inspect the extent of the damage by other contractors before starting. Some general contractors are on site daily and really enforce care by all the trades around the windows; some don't. We once saw a plumber cut a copper pipe on the ground next to a window and EMBED metal shavings right INTO the glass. Cell phones with built-in cameras can come in handy for this, too.
4. Understand the difference between regular and tempered glass and what that means to you as the window cleaner. The IWCA has some great information on the topic for your use.
5. Be sure to use an additional waiver to remove yourself from liability. You never know what can happen once you touch that glass or what kind of pre-existing scratches are under that glop of wallpaper paste.
The biggest tip we can offer is to document everything and communicate openly with the general contractor or independent builder. Often, they are so busy that they are just unfamiliar with the truth about their team, the state of the windows or the facts about tempered glass.