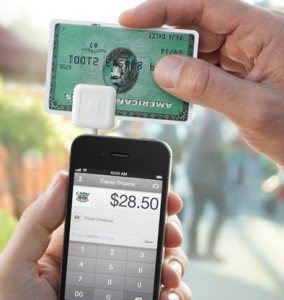 I am not really a shoe girl. I like a nice pair of heels, but I am no Carrie Bradshaw  (Sex and the City). In fact, I rarely get the chance to go shoe shopping. I did, however, buy an awesome pair of taupe heels at Nieman Marcus for a recent wedding. Why am I telling you this?
Well, the cashier did the most amazing thing – ever.
She rang me up right there, on the spot. I didn't budge from the chair, just continued to put on my tennis shoes. How did she manage that?
Glad you asked ….
Cash flow is the hardest thing to manage for a small window cleaning business. You can end up with thousands or tens of thousands of dollars in A/R and not enough money for groceries. Anything that can improve this is tops in my book. I love the idea of PayPal to collect payments, either online or via cell but this gadget is different. Well, it's easier just to show you …

Free to set up. Free card readers. 2.75% per transaction. The money is in your hot little hands in less than 24 hours. Sweet!