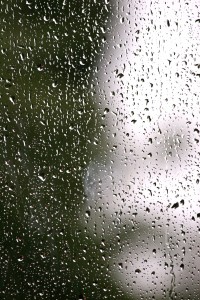 Rain is the bane of every window cleaner. Or, is it?
Basically, there are two things you can do when it rains, head out or cancel. Some customers get annoyed and stressed when you show up to clean in the rain. Yet you and your crew can get annoyed and stressed when they re-schedule. There is just no simple solution. Or is there?
Everyone talks about educating customers on tempered glass. We mention the importance of training your customers to call throughout the year in order to even out your schedule. Why do we not teach them the TRUTH about window cleaning in the rain?
The truth is that its fine to clean windows in the rain. The rain doesn't ruin clean windows.
Sure, a hard rain that splashes up mud from an un-mulched garden bed or a dust-filled monsoon storm or even a salty storm along the coast may make a mess. But, the bulk of the rain that rolls through suburbia will not ruin a quality window cleaning job. It's hard, however, to express this convincingly to a homeowner or front desk receptionist.
I used to tell people:
Right now there is dirt, grime and sticky stuff on your windows that needs to be  cleaned off. It is attracting more and more debris to your windows and getting them even dirtier. Once they get a good cleaning and all of that is removed from the surface of the glass, the water will just sheet off and your windows will stay cleaner, longer. You won't need to worry about rain.
I know, super technical explanation, but it worked. Most of the time. Some clients never believed me and insisted on re-scheduling. Some would keep their appointment and would actually call me back to tell me that their windows did, in fact, stay clean after the rain. There were also a few people that swore the crew must have put some magic cleaner on the windows because they stayed cleaned for months afterwards. Um, no. It was just cleaned PROFESSIONALLY.