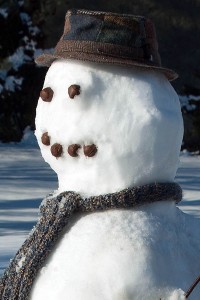 It happens every year. We are either blissfully unaware that winter is approaching or time just went by so fast that we turn around and the temperature finally matches the calendar. Consider this your little reminder to get ready now for the cold days to come.
1. Boots: No matter how frugal you may be, top quality boots are important. Window cleaners live on their feet and it's important to keep them warm and dry.  If you invest in a quality pair, they will do the job well until Spring and beyond.
2. Gloves: Likewise, investing in a good pair of gloves can save you painful fingers and frostbite scares later. Which kind to buy is really personally preference, Detroit Sponge sells everything from scuba gloves to thermal liners.
3. Hand Warmers: Maybe you prefer to work au naturale and gloves just drive you nuts when gripping  a squeegee. Why not stock up on hand warmers for your pockets. They work great at quickly reheating your poor digits.
4. Tune Up: If your work vehicle needs a tune up, new tires or a new battery, take the time to crawl under there or to schedule an appointment. If its an expensive fix, start saving a little each week.
5. Your Head: 40% of your body heat is lost through your head. I know, I thought it was more, too but the point is, wear a hat. At the very least, get some ear muffs to protect your frost-bite prone ears.
6. Your Bucket: If you use additional ingredients in your bucket during the winter to prevent the water from freezing, consider buying some now. Windshield washer solvent, for example, has a tendency to go up in price over the winter months as demand increases.
7. Dress in Layers: We all know that dressing in layers is important, but where did you PUT those layers last April? The time to dig them out and throw them in the washing machine is now.