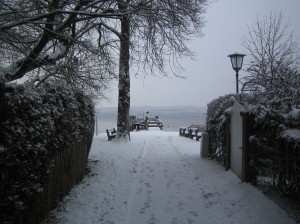 Whether your off season is January and February or the rainy monsoon months, everyone has a period of time where work is slower than normal, where customers just aren't making the phone ring off the hook. Sure, efficient window cleaners always have a plan B, but, for those of you who are newbies, what do you plan to do when it slows?
1. Well, for starters, you can plow snow. I mean, the lawn guys do it, right? Please make sure you have the proper insurance.
2. You can hang holiday lights. You already own a great set of window cleaning ladders from Detroit Sponge and have a list of customers so you are halfway there. You can do this solo or you can look into one of the many franchises out there. Again, insurance!
3. You can keep cleaning those gutters. We always had a list of people that called when it was a little too late. We would swing back around and clean them on those odd sunny days where the temperatures suddenly spiked.
4. Get in the truck and do some estimates. Commercial accounts can take a few months to approve through all the various channels. Use your time wisely.
5. Plan your marketing goals for 2013. Don't just write that you want 1,000 customers. Be ultra specific. Break it down per month, per week, even and write down the actionable steps that you plan on taking. So … state that you want 200 new customers a month and that you plan on getting them because you will be sending out 2000 postcards every two weeks.