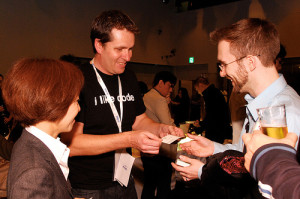 Let's talk about the Meet and Greet. That's what I like to call it anyway. Basically, it is any function that you go to – a BMI meeting, a mixer at your Chamber of Commerce, the IWCA Convention – in order to meet other small business owners.
Step one is actually going. Yes, you have to. No, I am not your mother. You still have to go, just because you are a window cleaner does not mean that you are exempt from networking.
Step two is being effective once you are there. And, by effective, I mean walking away with a few good contacts that can become long term, mutually beneficial business associates.
Many people approach the Meet and Greet as an event similar to Speed Dating. Rushed chit chat while an imaginary clock is counting you down, culminating in a hurried exchange of business cards. He (or she) who collects the most business cards wins. The problem with this approach is that you meet, say, 30 people, but you didn't get to know a single one.
Wouldn't it be better to find someone that would truly benefit your business, like a painter or a power washer, and talk to them? Really talk to them. I would much rather get to know 3 or 4 people that I am positive will be able to help my business. I also want to be confident that I can return the favor.
I am reminded of the story of a young high school kid who showed me the stack of job applications he had picked up on a recent trip to the mall. He was so excited at the sheer number of them. I was slightly bewildered that he was not realizing that just because he had the application, did not mean he had the job. The same concept applies to that stack of business cards collecting dust on your desk from your last Meet and Greet.