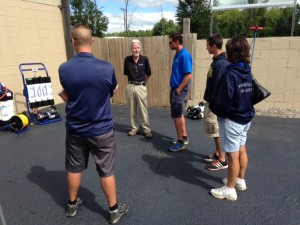 Thanks to everyone for making the Ettore open house/product day at Detroit Sponge  a success.  On behalf of the entire Detroit Sponge team, thanks for making the event a great time.  Many contractors joined us and enjoyed in the hands-on opportunities to work with the window cleaning tools and spend time with Eddie, the expert.  The food was all provided by and prepared by Ettore's John Becker, and tasted GREAT!
Some of the Ettore team has offered to stick around for another day too, so feel free to come by our shop on Thursday for more product tips and instruction.
Thank you to all of the window cleaning contractors that came by and spent some time with us! By the way, if you missed the day, think about joining us in Oconomowoc, Wisconsin this weekend for the annual window cleaning picnic!
If you need more info, feel free to give our office a call or send us an email.