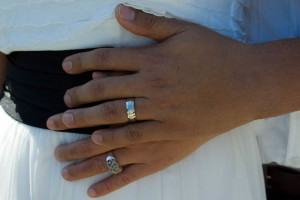 The awesome staff at DSC recently gave me a list of blog post topics based on questions or comments that you guys discuss with them when ordering by phone. Oddly (or NOT so oddly), one of the topics was work and marriage. Owning your own business is tough and, when you add in balancing a home life and keeping your spouse happy, it can be incredibly difficult. 
You can either keep things separate, and run your business solo, or you can be full-on partners, sharing all the work and responsibility. There are pros and cons of each method, but here are a few tips for whichever route you choose.
1. Remember that you are partners in marriage first. Trust me. I know firsthand how hard that can be when you are in the midst of spring cleanings and all the madness that ensues while dodging raindrops and re-scheduling and early mornings and even longer nights. There were days where my husband and I said nothing to each other that wasn't business-related. You have to fight to avoid becoming *just* business partners. You need some couple time that is set in stone, even if it is just a few hours on Sunday morning. Protect that block of time fiercely.
2. Recognize that each of you brings something different to the table and respect whatever it is. This is not a fast squeegee competition, just as much as it is not a most-detailed excel doc competition. No one person's skills are making this business succeed more than another's. It is the combination of your accumulated talents that is getting the job done.
3. If you keep things separate, then don't monopolize the conversation. You can go home and complain about the overflowing gutters at Mr. Smith's house all you want, just be sure to give equal face time to your spouse's day. Let your spouse have his or her kvetch time about kids, their boss, the traffic they dealt with, whatever. It's only fair.
4. If you head to the IWCA's annual convention each year, take your spouse. There are plenty of things to do for a non-window cleaner, and you can hang out in Memphis – who wouldn't like that?!