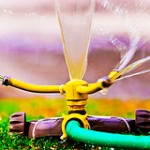 Ever have one of those days? Everything seems to go wrong: you're late for work, you left your favorite squeegee at the last jobsite, your cell phone fell in the bucket and NOW this window refuses to come clean.
You've scrubbed and Scrubbed and SCRUBBED but nothing is doing the trick. Here are a few suggestions to step things up and get the job done:
Sticky Stuff
1. D Solv It – Removes silicon, paint, tar, tape goo and other residues that just don't come off in a regular cleaning.
2. Bio Clean – Tough on window stains, easy on hands. That's right – you don't even need gloves when you use this product to take off tree sap, soap scum, mildew and water stains.
Hard Water Stains
1. A-1 Stain Remover – This chemical can help you remove those orange hard water stains left behind by errant sprinklers as well as the spots from mineral residue.
2. Ettore Scrub Off Stain Remover – Another great product to try for both hard water and mineral stains on glass. We've even got a video on this spot remover.
3. Sorbo Hard Water Stain Remover – Sure, the name's not as catchy but this powder version from Sorbo gets the job done. Just sprinkle a little on your wetter and away you go.
Scratches
1. Scratch Pro Scratch Removal Kit – There is even a solution for scratched windows. Call us and ask about this easy-to-use product.
You can see these cleaners and all the products we offer to solve your window cleaning problems on our website.
Oh, and, if you do happen to drop that cell phone in your bucket (and, who hasn't?) do NOT try to turn it on. Take the battery out and stick everything in a box of uncooked rice. It should dry out and survive. Heck, windows cleaners should probably carry a box of rice in their truck. LOL