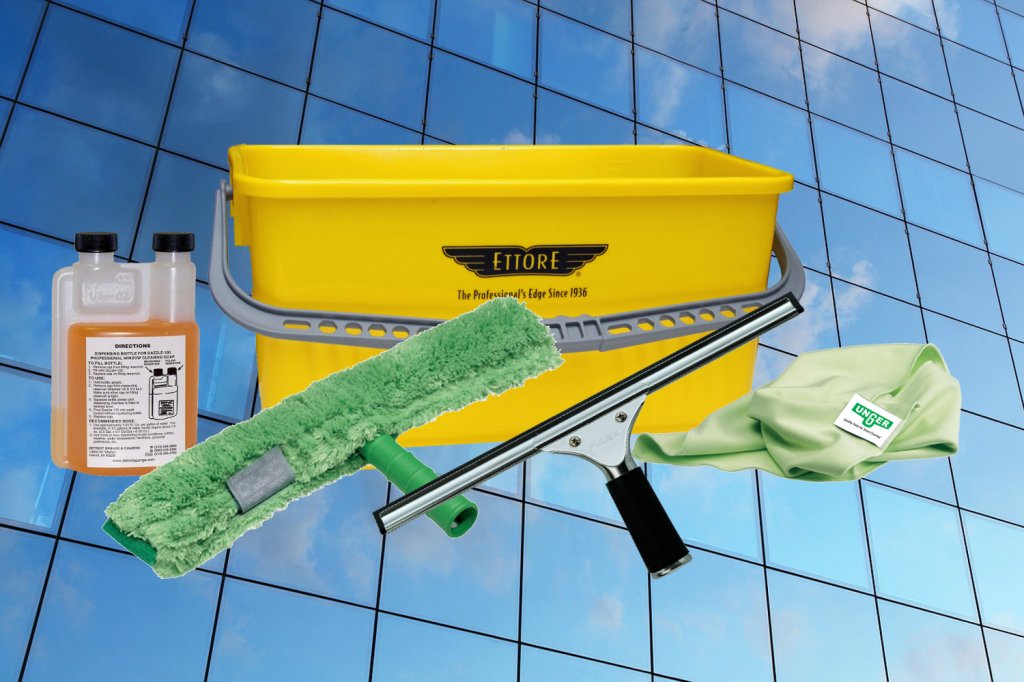 Whether you are a professional window cleaner or a home owner looking to keep up on cleaning your windows yourself, there are many tools available to make that job easier.
Here we will touch on the five most important items.
1. Bucket
The window cleaning bucket serves two purposes:
Holding soap while you are cleaning windows.
Storing your window cleaning tools when they are not in use.
Window cleaning buckets are usually rectangular, and this is to better fit the entire length of your washer so you can get soap on the entire length all at once.
Standard buckets are about 6 gallons and easily work with washers and squeegees up to 18 inches in length.  Smaller buckets are available, and may be more economical and space-saving if you are only working with smaller sized tools.
There are also round buckets and buckets on a belt.  Round buckets are the preferred style for some window cleaners, they are also more readily available if you are just looking for something around your house to use.  Buckets on a belt hang from a tool belt.  They are designed to hold soap and both a washer and a squeegee, making them a more mobile choice.
2. Soap
This is the liquid used to clean the window, and is very important.
Whether you use a solution from around the house (dish soap actually works very well for cleaning windows with a washer and squeegee) or a store-bought window soap, make sure you pay attention to your soap-to-water ratio.
More is not always better!
Too little soap will be more likely to dry quickly on the window and will lower the cleaning power of your solution.  But too much soap can cause an over abundance of suds and leave streaks behind on the window.
A graduated dispenser that pre-measures can help with mixing your soap and keeping it consistent.
3. Washer
A washer is composed of a fabric sleeve and a t-bar.  This is the tool that scrubs the dirt off the window, with the help of your soap solution.
Washers come in a wide variety of styles.  Some are regular fabric, some are microfiber.  Some have extra scrubbing ability.  Whichever type you use, it is important to wet and scrub the entire window, and keep it wet for the squeegee to remove.
The washer t-bars are available in solid handles or swivel handles, depending on your need and preference.
4. Squeegee
The squeegee is the most important piece of the window cleaning arsenal.  With it, you remove all of the dirty water.  This leaves behind clean, dry, sparkling windows!
Technique is an important part of squeegeeing a window clean, and can take some practice.
Squeegees are made up of two parts – the squeegee channel and the squeegee handle – and they come in a wide variety too.
Channels come in a few different styles:
brass
stainless steel
aluminum
wide aluminum
Handles also come in a variety of different types:
solid
swivel
ergonomic
zero-degree
Choosing the right combination really comes down to preference and your needs.
5. Towel
The towel is helpful to touch-up any wet spots left behind after squeegeeing, particularly around the edges and on the window sill.
Drip marks are the last thing you want after all of your hard work!
There are a great deal of different types of towels available, and these include:
terry cloth towels
microfiber towels
re-purposed surgical or Huck towels
scrim towels
chamois
Do you have additional questions about all of the products available to clean windows?  Comment below or email us from the About Page!