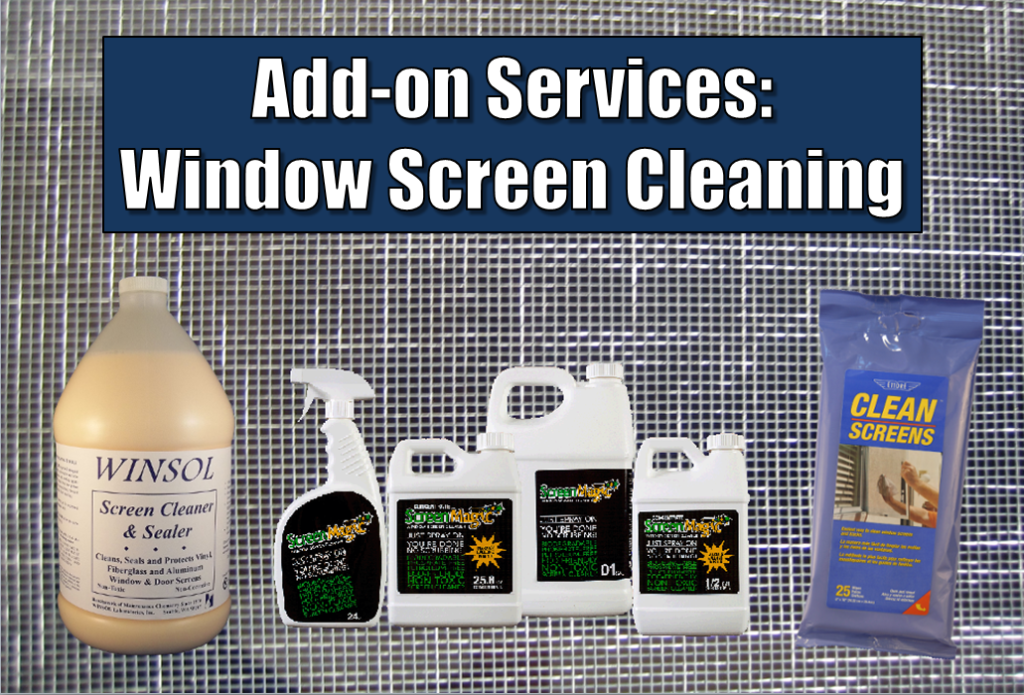 Fall usually brings a slow-down to the window cleaning business, but there are ways to increase your profit before the snow starts flying.  Add-on services provide added value to your customers and greater profit to you, the window cleaner.  Over the next few posts, I will be touching on some of these add-on services.
First, we'll cover window screen cleaning.
Why Clean Screens?
As a window cleaner, you find out first hand how many homeowners neglect their windows.  So window screens are barely even a thought!  You can help your customers by explaining the importance and benefits of screen cleaning.
Clean screens have a number of benefits:
Better airflow
Better looks
Longer life
Most screen cleaners also have a built-in protectant, and this will not only keep the screen cleaner, longer by repelling dust and dirt, but will also protect it from UV rays and pollutants.
Problems to Keep in Mind
One potential problem to keep in mind when cleaning window screens is severely neglected screens.  These screens may be beyond the help of cleaning.
Beware of screens rusted into the window and take caution with the screen material.  Neglected screens may be difficult to remove – and even more difficult to re-install.  They also may be beyond the help of cleaning, as very brittle screen material can break and crumble.
If in doubt, decline to clean screens that are in really poor shape.
What Products Are Available?
We have products available that work great to both clean and protect window screens:
Ettore Clean Screen Wipes – These are quick, no-mix, no-mess pre-moistened towels – just wipe the screens clean.
Screen Magic – Available pre-mixed in a convenient spray bottle or in a super concentrated version for better value.  Just spray on and you're done!
Winsol Screen Cleaner and Sealer – This comes in a concentrate and is a one-step product to clean and protect window screens.
Other Considerations
If you are exceptionally handy, you can also provide services for repairing tears and holes in screens.  There are kits available for this service.
Do you have additional questions about cleaning window screens and the products available?  Comment below or email us from the About Page!