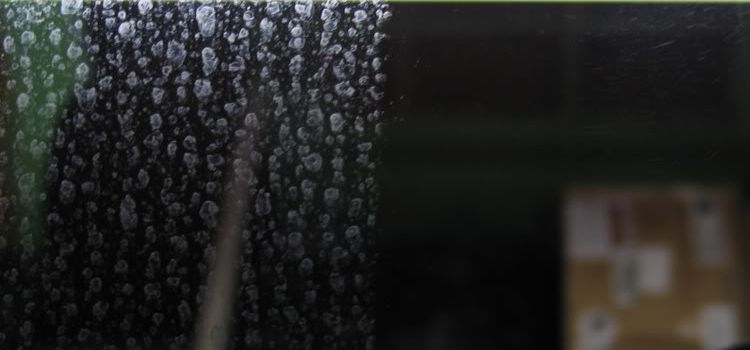 Hard water stains are a common problem in areas with tap water that has a high concentrations of minerals, and particularly for homes without water softeners. Hard water stains can especially be a problem in bathrooms (shower doors and walls) and on windows that get hit by sprinklers.
I've seen a lot of different home remedies for cleaning hard water stains from windows, such as:
Wet newspaper
Vinegar
Lemon juice
White paste toothpaste (non-whitening)
Baking powder
Powder stovetop cleaner
Wet fabric softener sheets
A lot of them make sense for different reasons, but some I don't get. Wet newspaper? Vinegar? Maybe if the water spots are minor or from poor previous cleaning. Wet fabric softener sheets? I would think those would leave an awful, streaky mess, since that's what towels washed with fabric softener do.
This YouTube video from essortment makes some good points for removing hard water stains, particularly in regards to lemon juice. Most hard water stains are basic and lemon juice is acidic.
But what if you've tried these and had no luck? Should you use something with caustic fumes like a CLR or Lime Away? These may be effective, but they're not good for using in a closed room like a bathroom and they're certainly not good for prolonged exposure, like a window cleaner might encounter.
When I suggest hard water stain removers, I suggest a series of products, starting with the safest, but still very effective for most stains, and ending with a acid-based cleaner which requires care and the use of gloves:
If all these stain removers still don't work, the stain is probably a burn in the glass. When stains become bad enough and sit on glass long enough, they began to etch into the glass itself. At this point, the only thing that works is machining the glass.
A product like the JFlint Mr. Hard Water line can be helpful with these etched-in stains.
When combating hard water stains, it is best to start simple and safe, and to go progressively more heavy-duty. Hard water stains are never something with a simple solution. They take the right chemical and some elbow-grease. So be patient, be persistent, and use the right cleaner.
Do you have additional questions about the various hard water stain removers available?  Comment below or email us from the About Page!
Or… Shop now!