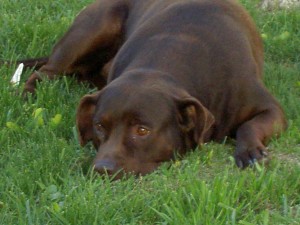 We've talked about gutter cleaning and other add-on services for your window cleaning business. There are a million and one ways to make an extra sale at each job site; most of which require little effort on your part. I mean, you're already up on that ladder, right?!
One you may not have thought of is pet screening. Yes, you already clean screens and you may even offer a re-screening service, on-site or otherwise. Pet screening is different. If you notice that your customers sliding doorwall screen  is trashed from her pets, you can casually mention that there is a nifty new product that can eliminate those embarrassing claw marks and holes and you are just the window cleaner to swap it out. And, as the owner of many screens in the above condition, I can attest that it is unsightly and lets in annoying mosquitoes.
Yup, pet screening is supposedly seven times stronger than the standard nylon or metal insect screening. The manufacturers make it out of a vinyl coated polyester. Cats can't damage it when they use it as a scratching post. Dogs can't claw their way to freedom. Children can't stretch it all out of shape. Genius, right?! Well, if you have pets or kids, you'll think it is.
You can carry some with you and get the job done right then and there or, better yet, tell your client you will set up an appointment in your off season. So, now you have a list of people who want you to come back on a snowy day in January, which is brilliant because 1) what else were you going to do? and 2) you can upsell them again when you come back and clean that pesky shower door and the mirror above the fireplace that they can never seem to reach.
There are a ton of places that you can buy it and installation is the same as any other screening product. In fact, you don't even have to buy anything until you have a list of people ready to go – even better.